Get ready for our biggest and best Homecoming celebration yet! From November 1 - 6, 2010, Phoenix College is the place to be for music, prizes, games, and fun. All events are free, so come out and show your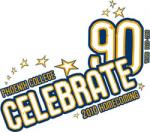 PC spirit! Buy a Homecoming 2010 t-shirt for just $5 (sizes S-XL) to display your PC Pride. For details, visit
www.phoenixcollege.edu/homecoming
or contact Student Life & Leadership at 5-7321.
Monday, November 1st:
Homecoming Kick-off Celebration, 11:00 a.m. - 1:00 p.m., Sophomore Square: Homecoming Court winners will also be announced. Participate in fun games and activities! Free ice cream sandwiches!
Tuesday, November 2nd:
Campus Wide Decorating Contest: Campus offices and student clubs decorate using the
Celebrate PC: 90 Years
theme. Choose a decade from 1920 - 2000 and decorate! Judging will take place on Tuesday, November 2nd. The winning department and club will receive a pizza party and bragging rights!
Wednesday, November 3rd:
Celebrate PC Spirit Fest, 11:00 a.m. - 2:00 p.m., Sophomore Square: Celebrating 90 years of PC! Games, club activities, snacks, prizes, music, and more! The most fun weekday of the semester! Sign up to participate in the Dance of the Decades Dance Contest. Choose a decade between 1920 – 2010 and get your groove on!
Thursday, November 4th:
---
Putting on the Ritz Costume Contest, 12:00 - 1:30 p.m., PC Bears' Den: Dress up for your favorite decade and come down to the Bear's Den to be judged. Prizes will be awarded for Best Costume Overall, Most Creative, and Crowd Favorite. The winners of the Campus Wide Decorating Contest will also be announced.
---Men's Basketball, 7:30 p.m., PC Gym: Support the Men's Basketball team as they take on College of Southern Idaho!
Friday, November 5th:
---Banner Making Party, 10:00 a.m. - 4:00 p.m., PC Bears' Den: Join us for snacks and school spirit as we make banners to root on the Football, Softball, and Basketball teams for their games.
---Pre-Game Game Day, 1:00 - 4:00 p.m., PC Bears' Den: Get your game face on! We will have games from the 1920s to present, video, and board games for you to choose from. Bring your own multi-player games (for all audiences please) for Xbox, Wii, PS3. If you have an old-school system and games, bring them and we'll set them up, too. Come on down to the PC Bears' Den (Hannelly Center Lower Level) to enjoy the fun!
Saturday, November 6th:
---Tailgate Party, 12:00 -1:30 p.m., behind East Bleachers at Hoy Stadium: Celebrate with us before the big game! Bring your own pre-cooked food or purchase food in support of PC Athletics. Free snacks, games and activities! Live music! The most fun weekend event of the semester!
---Homecoming Games: Cheer on the PC teams! Football kicks off vs. Snow Community College at 1:30 p.m. FREE admission to the game with a PC Student, Employee, or Alumni ID card.